Delivering a tailored risk-based pricing solution for
Cambria Autos
Cambria Automobiles plc is a franchised dealer group retailing new and used cars, commercial vehicles and motorbikes. They are listed in the Top 30 of UK car dealer groups.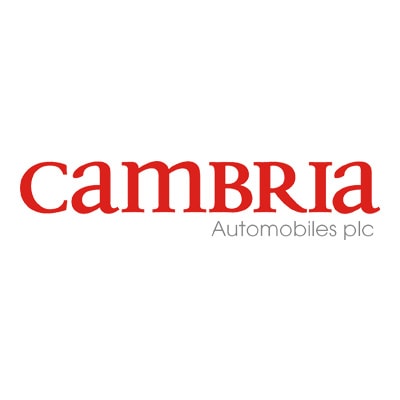 Cambria has a broad brand portfolio, including luxury and supercar partnerships with Rolls-Royce Motor Cars, McLaren Automotive, Aston Martin, and Bentley Motors. With a company culture based around creating delight for their customers, Cambria wanted a motor finance partner who was committed to delivering on their promises.
Cambria Autos were looking for better quantity and quality of business, improved conversion rates and increased finance penetration. More recently, impending FCA changes to commission models required a digital finance solution that would deliver pricing transparency for their customers, whilst ensuring regulatory compliance for Cambria.
With on-site account management through their regional Account Manager, Cambria have enjoyed a much-improved level of communication and support than provided by other finance brokers.
In response to the FCA changes, Cambria opted to go down the 'rate for risk' route, utilising soft search and delivering a rate based on the customer's own credit score. Evolution worked alongside Black Horse and Cambria to develop and create an integration that worked for all parties. 
Initially, Cambria sent Evolution just their first-string declined business. They then progressed to using IQ to soft search every customer against Cambria's own scoring model to determine where best to place the proposal. Evolution's technology ensures that proposals that don't meet the criteria of Black Horse are instantly run through Evolution's broad panel of lenders. 
Black Horse only see proposals that fit their criteria, improving the quality of leads, creating operational efficiencies and increasing prime acceptances. 
Cambria have reported that their customers now have a better experience. The clarity and credibility of Cambria's pricing method makes it easier to explain to the customer. What's more, customers come back due to the transparency of their experience.
The high quality of business also allows Cambria to negotiate preferential rates with their first-string lender, leading to improved profitability.
Overall, Cambria tell us they have been impressed with the agile way we have adapted, changed and updated our systems without getting weighed down in red tape and bureaucracy. Furthermore, Evolution is delivering on what was promised from the outset.
"Evolution has gone from playing a bit part in Cambria's finance offering to being a significant driver for both Cambria and their finance business."